Brokerage - Buying or Selling your Boat
Buying or selling a boat is an important but complicated process. It can be costly to navigate without experience.
Grant provides a listening ear and will combine that with his knowledge of boats, the industry and the market in order to make sure your experience is the positive one it's meant to be.
Financing and Insurance
Ask about our experienced contacts who specialize in recreational boating.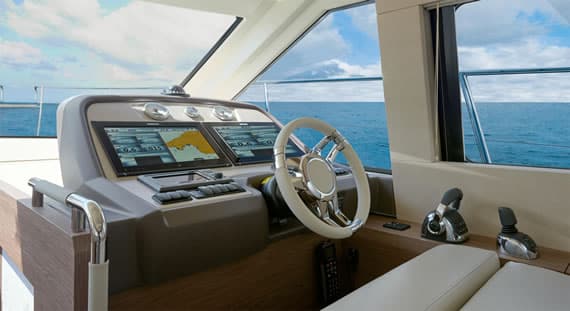 Hands-On Introduction to Yachting
This is the way to begin to appreciate the excitement and the adventure that come with being out on the water in your own yacht. A guided yachting session with an experienced captain and teacher will get your yachting venture off in the right direction.
Private Training Sessions
Along with the purchase of your boat: Docking, Anchoring, Rules of Navigation , Destination route planning, Marine systems
Meet Captain Grant Ninneman
Licensed and bonded Yacht Consultant with 20 years yachting experience as captain, technician and after sales with direct drives, pods, Arnesons, jet drives, outboards and sail drives. Pacific crossing, Atlantic crossing, US, Bahamas, Mediterranean and Red Sea.
In November, 2022 I met Grant Ninneman from Denison Yachting over the phone when I relocated from Connecticut to Florida in search of a fulltime liveaboard yacht. I could not have been more fortunate to connect with Grant. I immediately found him to be knowledgeable, responsive and an excellent sounding board which was critical to me being a first-time yacht buyer.. Grant could not have been more helpful from the initial yacht search, to the purchase process and then post sales support. I feel very fortunate to have Grant as my broker. I strongly recommend Grant to anyone wishing to purchase a yacht.
Grant, I don't think Betty and I ever told you how appreciative we were of your efforts as our broker..You hit the ground running. A great advocate for the attributes of the Grand Banks. You also were quick to use resources to publish a very good video which we believed contributed greatly to the relatively quick sale once you took command. Again, Betty and I were very pleased with your focused efforts. Thanks again
I was looking to purchase a boat on the East Coast and ship it back to CA. I needed an experienced yacht broker, someone I could trust and preferably a licensed captain. In other words, someone who really understands vessel capabilities and operating systems and could spot potential problems. I was introduced to Grant Ninneman. Grant is not only a captain but one with trans-pacific experience. With his guidance and keen eye I found the boat we were looking for. Grant then went on to negotiate a lower price.. Grant's a great guy and brings a lot to the table.
I have 50 plus years in the marine industry. During this time, I owned and operated a 350-boat marina which offered full service and retail sales. I found Grant Ninneman from Denison Yachting is without question the most responsive, knowledgeable yacht broker I have ever met. I still can't believe that any time I call he either answers the phone or texts an immediate response. We spent several days visiting yachts before finding a 2007 70' Princess Yacht. Grant is extremely knowledgeable and very capable during the purchase process including negotiating offers, arranging for a survey and haul out, obtaining insurance and recommending service personnel for completion of work on the boat after closing. Even now, after the purchase, Grant continues to stay in touch. I highly recommend him to anyone purchasing a yacht.